Do you think blogging is dead nowadays and are giving up on your blog or are confused to start a blog?
Then now know how new bloggers are earning a mindblowing amount online just by blogging.
today we will be seeing a very new and famous blogger who is earning from $11,818 to $200,00 per month, not a year.
This is just a mind-blowing income report which he had provided and today I will be sharing with you how he did this and will be adding some of his suggestion which is available on his blog.
This will make your work easier and you will be also doing this on your own or with these resources and easy guides and ways for you now.
So let's get started,
Adam Enfory The Blogger
He had started this blog all about blogging and digital marketing.
Now to this date, he has more than 300 articles on this blog.
Plus he comes from a background in this field only and had worked for more than 2 or 4 years in this field.
His ways and methdos really helped me also which were free on his blog and I also figured out some ways to grow my blog in 2021.
And This led me to start this blog too which you are reading now.
Adam methdos is really very amazing and easy to understand from day one.
Now he also has started his youtube channel and sharing plenty of good information across the internet.
Which has let to make a very huge amount in the end through his blog.
The methods which he uses are very simple provide a detailed guide with all the pros and cons plus just answer all the questions of the reader in one place.
If you ever read his article you will notice that they are very lengthy and in-depth articles.
So to sum it up,
Started – 2019
Articles – 300+
Domain Authority – 75+
Traffic – 400k to 500k
Earning – 200k plus per month
Are those numbers crazy as he had just done all his in the span of three years only from 2019?
What I Learned
Now I will add some points which I learned from adam's blog.
As his tricks and methdos are really amazing so the first one is.
First, pick a good niche that should be profitable.
Since this is a very important factor so you will also have to pick a niche that should be highly profitable with good quality of traffic which you want to target.
Learn how to build your domain authority.
This is one of the best and most important factors which adam used to grow his blog in less time.
So you should also learn how to grow your domain authority by writing a guest post and other methods.
Write in-depth articles.
By this, you will be adding all the information in one place.
If you will be writing all the articles by yourself then it's not possible.
You will need to write a depth article so your readers will literally get all the information in one place plus they're purchasing option will be quicker.
As their problems and question get solved they will purchase the mentioned products from you and you can earn from its affiliate commission. Whcih adam has used to earn this huge amount from his one blog only? Not any other or plenty of blogs to earn more than $200k per month.
How To Hire Freelancers
Now if you want to do this all by hiring freelancers online adam has also added in-depth articles on how you can do that.
By this, you can focus on many things to grow your blog which is best and adam also do this by hiring freelancers and dividing the work.
Adam's Income Reports
So adam started this blog in 2019 and he first published his income report in May 2019.
At that time Adam's blog was making him around,
$11,609 – A Month
31000 – Organic Traffic
New Email Subscribers – 685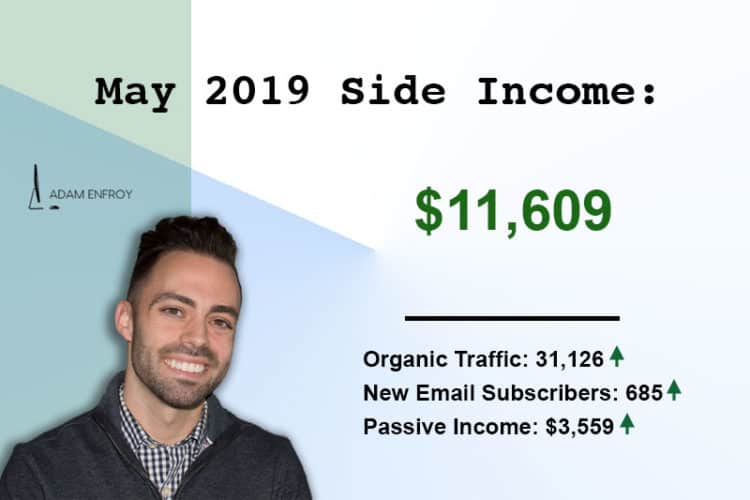 Before Income can be $7000 To $8000 as he had, not listed the income reports before 2019 may so I just estimated that by looking at his blog and using some top SEO tools.
At the end of 2022 adam made around,
$812,718
4.90 MM Traffic
42,069 Email Suvsribes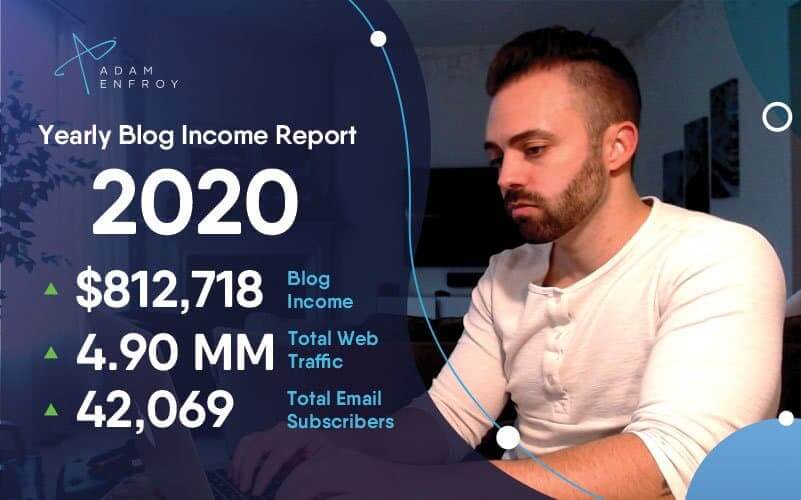 This he all made from his just one and earned from mostly affiliates and Mediavine ad network and also by selling hid pdf online.
In Mid Of 2021 June,
Adam made around – $281,776 in June 2021
His Traffic Was Around – 341,684 in a month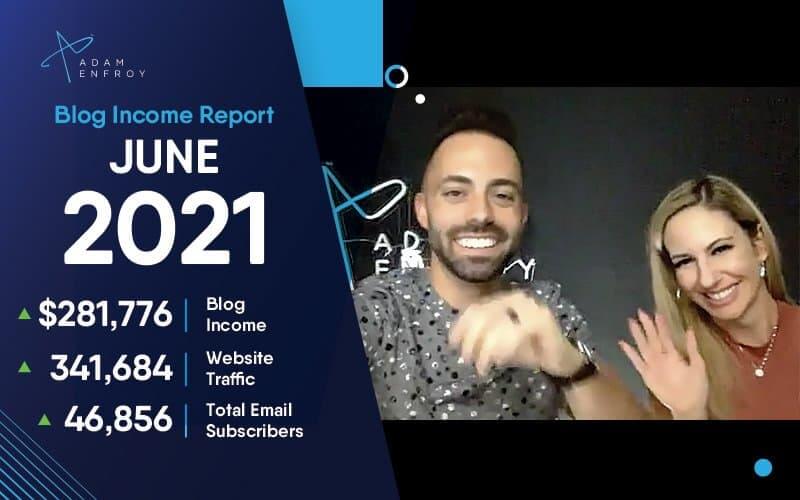 Now he also created his courses online about bogging whcih is around $3000.
But at that time there was a big sale like about 50% off so he made a good amount at that time in June 2021.
Now in 2022 adam is making around,
$347,628 In March
75+ Domain authority
400k + Traffic
As of now adam is scaling this business further and making a very good amount in 3 years like the top authorized bloggers online.
I had completely taken all of his income report information from his blog and youtube.
Plus over here if you think that this must be fake so My personal answer will be,
That once at the beginning of my blogging career as I also started in the same year as adam in 2019 but at the end of that year.
And I made around $241.41 from just Adsense only.
Yes, this is not a very huge amount but for me, it was as Traffic on my blog was just 8000 per month.
Plus blog was also not completely optimized at that time and I took that traffic all from quora and Facebook only.
And I easily made $241.41 in a month.
So as adam says he drives all traffic from Google and promotes mostly big affiliates so he can easily make this mind-blowing figure from his blog.
Best Blog Post To Learn From
First, if you need to know how he had started a blog or want Methods that he suggests everyone do it.
How to write a blog post like him.
Guest posting and how he did it in a year by writing around 85 guest posts as he mentioned.
What to outsource as a blogger nowadays.
Keyword research and growth tricks to rank.
Plus there are more blog posts and videos that you can see on his blog or youtube channel now.
I just mention those important blog posts and videos which I found to help full and which you can use also to learn his methdos and grow a little bit of your blogging knowledge nowadays.
Plus adam is also selling his paid course which you can check out if you want it's all on you not any affiliate or promotion methdos over here by my side just adding all how you can learn his tricks and methdos to grow your blog.